FISHING LINES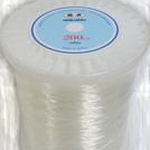 We are exporting nylon monofilament lines and fluorocarbon lines to Australia, Europe, Canada and U.S.A.
We can produce and supply various quality and various sizes of lines (0.158mm-2.00mm) as per the request of our customers.
Available colors are clear, blue, green, red, transparent clear, transparent blue etc.
Our usual packing of lines is by spool, by bobbin and/or by hank (coil).
Various sizes of spool/bobbin are availble.
We are very happy to make fishing lines as per your requested sizes, quality, color and packing.
Please let us know your interest by e-mail to the following address: contact@shibahira.co.jp